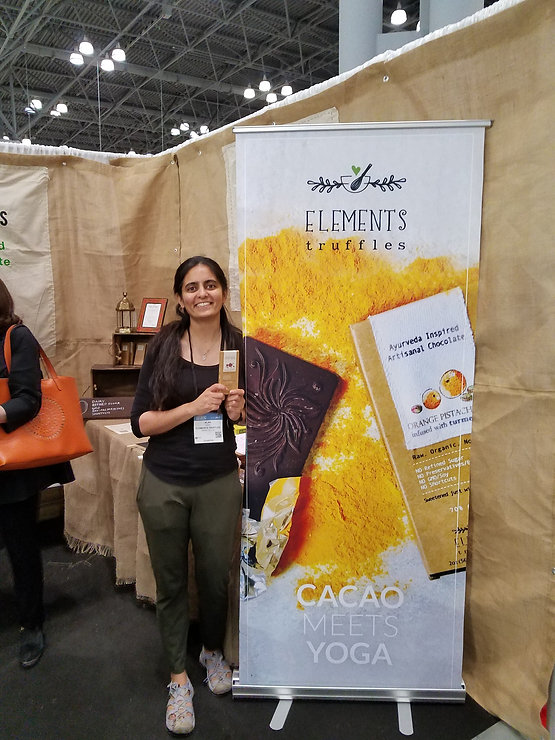 Elements Truffles' Alak Vasa at NY NOW
No doubt chocolate aficionados consciously or unconsciously are aware of its Ayurvedic attributes, but Elements Truffles makes it crystal clear.
The Jersey City-based artisanal chocolatier states upfront that its truffles, which are handmade in micro batches and infused with "Ayurvedic super foods" like turmeric, beet root, lavender and cardamom, pinpoint the intersection where "cacao meets yoga." And as founder and chef Alak Vasa notes, they're further infused with "love and Vedic chants."
"They're made by meditators!" said Vasa at her company's booth last month at NY NOW. "Everyone on the team is a meditator, and the chocolate is infused with Vedic chants in the tradition inspired by [Indian spiritual leader] Sri Sri Ravi Shankar."
She noted that India's ancient Ayurveda healing system is "a food science that reveals the secrets of how to balance the five elements--earth, water, fire, air and ether--in our bodies. The focus is on what we eat in achieving harmony and balancing these elements."
Chocolate, Vasa added, is a "universally accepted medium."
"We use chocolate to create awareness of Ayurveda," she said. "No one denies chocolate! You can't say, 'Eat some turmeric,' but you can say, 'Have some dark chocolate infused with turmeric.'"
Vasa came to her Ayurvedic chocolates by way of Wall Street, where she was a desk trader. She recalls how when the going got tough, "a good chocolate kept me going."
Centering on spirituality, she envisioned her blend of "inner and outer comfort" using "purest ingredients" (raw organic chocolate from finest quality Criollo beans from Peru and "honey extracted ethically from hard-working local honey bees of New Jersey") with the intention to spread "happiness and love."
Sustainability—in all ingredients and packaging—is a key goal at Elements Truffles, where 25 percent of the profits go toward supporting education of underprivileged children in tribal area of India. And in addition to meditation, everyone in the company puts in at least five hours of community service weekly.
Please reload
Click on January 2019 to access earlier months