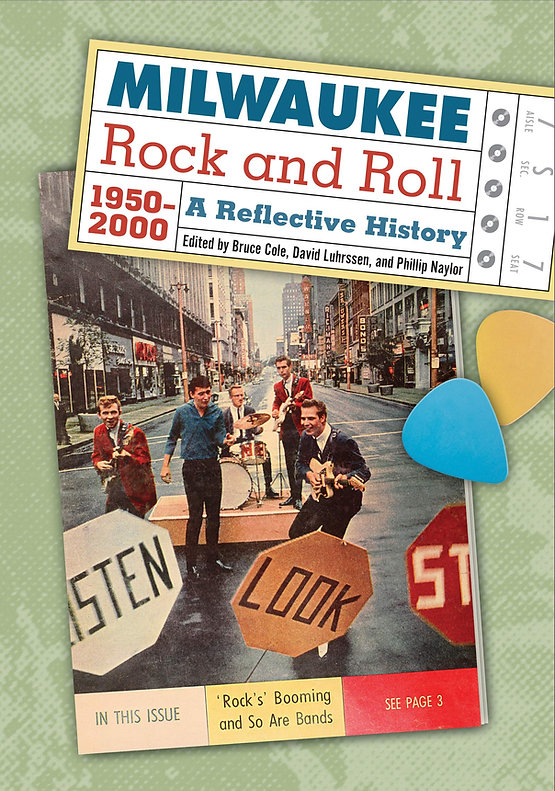 Throughout rock 'n' roll history, many cities established their own signature sounds, to name a few, New Orleans and its R&B, San Francisco's psychedelic rock, New York punk and Seattle grunge.
While not as readily identifiable, Milwaukee also had its distinctive brand of rock 'n' roll, as recounted in a new book from the city's Marquette University Press, Milwaukee Rock and Roll, 1950-2000: A Reflective History.
The heavily illustrated 256-page hardcover contains essays from 15 Milwaukee music people including editors Bruce Cole (musician and curator of the Jean Cujé Milwaukee Music Collection at Marquette University), David Luhrssen (managing editor at Milwaukee alternative weekly newspaper Shepherd Express) and Phillip Naylor (Marquette University history professor).
Among the many legendary Milwaukee rockers highlighted are Sam McCue, Junior Brantley, Harvey Scales, Jim Liban, Les Paul, Jon Paris, Short Stuff, the Oil Tasters, Die Kreuzen, Yipes!, Violent Femmes, The Robbs, The Esquires, Spanic Boys, The Messengers, Ruby Starr, The BoDeans, Sigmund Snopek III and Talking Heads' Jerry Harrison.
The book also covers Milwaukee's concert scene during the timespan, and appearances by out-of-towners like The Beatles, The Rolling Stones, Bob Dylan, Muddy Waters, Bruce Springsteen, Led Zeppelin, Lou Reed and Patti Smith.
As for the city rock sound of Milwaukee itself, editor Cole characterizes "Miltown rock" as "the sound of blue-collar working kids."
"It didn't have the surf thing of Los Angeles, or the hippies of San Francisco," Cole notes. "Milwaukee was a factory town with a lot of great musicians who put out good music. Everybody was waiting for them to have their moment."
Many of them in fact did.
"It's hard to pick one sound as a 'Milwaukee Sound,'" says Wisconsin Area Music Industry (WAMI) Hall of Famer Jon Paris, longtime bass guitarist for Johnny Winter, who's played with everyone from Bob Dylan to "Wizard of Waukesha" Les Paul, and as a guitarist has long led his own rock 'n' roll trio in New York.
"There's the rock 'n' roll of The Legends—with Sam McCue--and the Royal Lancers, with Paul Stefan," says Paris, also designating "the R&B of Junior [Brantley] and The Classics, the funky soul of Harvey Scales and the Seven Sounds, the blues of Jim Liban and [his band] Short Stuff."
Paris also offers reasons for the varied sounds that made Milwaukee rock 'n' roll.
"I think being so close to Chicago was an advantage," he observes.
"We weren't as fortunate as folks in, say, Memphis or New Orleans, or folks actually in Chicago. But we got to catch many of the greats for whom Milwaukee was considered a local gig, and hear them on the radio. And the more adventurous Milwaukeeans could easily make the two-hour trip to Chicago and be in the home of the blues and hear the music firsthand, buy the coveted records, or maybe even record themselves."
Paris also surmises that because "the ethnic traditions that valued music--Polish, German, African-American, Italian, Jewish--were strong in Milwaukee, so that when rock 'n' roll hit, a lot of kids were already playing instruments because their parents and grandparents played."
This overlaps somewhat with Cole's explanation, which centers on Milwaukee's strong work ethic.
"I grew up in [the Milwaukee suburb] West Allis and started playing bars in the mid-'60s," says Cole, a drummer in numerous Milwaukee bands. "It was a very blue-collar thing. I hate to use the word 'giddy,' but whatever 'the Milwaukee Sound' was, it was garage rock [and] all about speeding along fast: It gets cold in Milwaukee, so you played things quickly!"
Like Paris, Cole looks to Chicago in characterizing Milwaukee's musicians and their sound.
"Milwaukee musicians felt inferior to Chicago musicians--and worked harder at it. But Sam McCue toured the country a lot, and told me that he knew musicians who had a lot of respect for Milwaukee musicians [because] they worked hard, and their parents were immigrants."
This working-class, blue-collar mentality is manifest in another distinguishing trait of Milwaukee rockers.
"When I was young, I was stalking 'Miltown rock' musicians—because I wanted to be one!" says Cole. "I'd hang out at music stores, ask people at gigs, 'Who's that guy on bass?'—stuff like that. I went anywhere and everywhere The Legends were! And John Pavlik, the guitar player for the Royal Lancers—the band pictured on the book cover—had a record. He wasn't trying to be famous, but make a record in order to get more gigs, and more money. Whereas in Chicago they made records to be famous, but here money was a real big thing—and that's why you made records."
The Royal Lancers, incidentally, had a local hit in 1962 with "I Fought the Law" before the Bobby Fuller Four's immortal 1966 Top 10 hit version of the song (originally a post-Buddy Holly 1960 single by The Crickets). The Skunks likewise had a Milwaukee hit in 1967 with "Elvira," which was written and originally released by Nashville songwriting great Dallas Frazier in 1966, and later served as the model for The Oak Ridge Boys' No. 1 country version.
"It felt a little like, 'Come on! These were Milwaukee band hits first, man!" says Cole, who points out in Milwaukee Rock and Roll that The Skunks featured Larry Lynne, a member of The Bonnevilles, "probably Milwaukee's first rock band." Formed in 1958, The Bonnevilles were "one of the hottest things in town for a couple years"—next to the Milwaukee Braves, of course.
But The Bonnevilles would soon be overshadowed by "guitar icon" Sam McCue, according to Naylor's "Sam McCue: The Fountainhead" book essay, "a founder of the first great Milwaukee rock group, The Legends." For Cole, McCue is "arguably the Father of Milwaukee Rock," and one of two Milwaukee rockers who for him stand out from the rest.
"There are good guitar players--and there's Sam McCue!" says Cole, who served with McCue in the band Tempus Fugit in the late '70s. "Same with Jim Liban: There are good harmonica players—and there's Jim Liban."
 Short Stuff's "I Made a Mistake"
Liban, founder of WAMI Hall of Fame blues rock band Short Stuff, is the other Milwaukee rocker singled out by Cole.
"The one word people use with harmonica playing is tone," notes Cole. "Jim goes beyond good tone—and he's an outstanding songwriter: Writing blues tunes tends to be repetitious, but his are unique."
Cole regrets having to turn down a gig with Short Stuff, but his Miltown rock history is substantial in its own right. Among the many other groups he played in were "Milwaukee's Beatles band" The Ricochettes ("the first to take the British Invasion really seriously," who had a regional hit with "Come in My Love"), and The Invasion, in which he opened for bands like Cream and the Mothers of Invention.
With cover band The Savoys, Cole, who teaches the Honors seminar "The Beatles and The British Invasion" at Marquette, opened for British Invasion bands Manfred Mann and Dave Clark Five and backed Chicago R&B vocal recording group The Ideals.
"You're a player growing up in West Allis and never saw a black person, and it's the start of 1964 and suddenly you're with The Savoys backing The Ideals in Chicago, and suddenly there are no white people anywhere--and everyone goes nuts!" says Cole. But he'd soon become well aware of Miltown's own R&B-driven rock 'n' roll.
"It's one of the things that brought races together," he says, citing keyboardist Junior Brantley, who fronted R&B band Junior and the Classics prior to joining Liban in Short Stuff, and Harvey Scales, who co-wrote Johnny Taylor's classic "Disco Lady" and headed his Milwaukee R&B band Harvey Scales and the Seven Sounds--who scored a national pop hit in 1967 with "Get Down."
A few other Milwaukee bands also broke the Billboard charts from 1958 to 1971, as noted in Milwaukee Rock and Roll: Thee Prophets had "Playgirl" in 1969; The Messengers had "That's The Way a Woman Is" in 1971. R&B group The Esquires had "Get on Up" and follow-up "And Get Away" in 1967, and The Robbs hit with "Race with the Wind" in 1966.
"The Robbs were the biggest thing ever!" says Cole of the pop group probably most remembered as the house band on Dick Clark's mid-'60s show Where The Action Is. But they were rivaled when the folk-punk Violent Femmes emerged in the 1980s.
"Milwaukee then became a 'third coast' music center with great bands: the Femmes, Oil Tasters, BoDeans. It fit in with 'the Milwaukee Sound': blue-collar and hard-working."
It all comes back to the city's enduring factory-town work ethic.
"The Robbs recorded everybody at their studio," observes Cole. "Jim Sessody, the Legends' drummer, ended up working his way down to Florida and became a carpenter--and helped build Criteria Studios in Miami and became an engineer and producer, and now manages a huge complex in Boca Raton. That's how Milwaukee kids were."
Cole's old friend Sam McCue went on to play lead guitar for the Everly Brothers for many years, while Jon Paris signed up with Johnny Winter. Milwaukee jazz-rock band Sweetbottom's guitarist Daryl Stuermer joined Genesis and later Phil Collins' solo band. The Robbs' drummer Craig Krampf became a successful session drummer, producer and songwriter (he co-wrote Steve Perry's "Oh Sherrie").
And Cole himself played with some of the greats, including blues harmonica player Charlie Musselwhite.
"Once you come back and say you played with Charlie Musselwhite, your ticket is punched!" says Cole, who still performs regularly with the Doo-Wop Daddies show band, venues including the Wisconsin State Fair in West Allis "and every Catholic festival in the world!"
As for his day job as a librarian at Marquette, he feels that Milwaukee Rock and Roll, 1950-2000: A Reflective History benefits by its "reflective history" perspective.
"It's not a reference history book," says Cole. "A history is a thousand pages and leaves out hundreds of important people. So this is the right approach: People contributing their feelings."
Concludes Paris: "I'm so glad to be included in the book, it's a great remembrance of that era that meant so much to so many. Thank you, People."
 Milwaukee boys Les Paul and Jon Paris (and Jimi Hendrix Experience's Noel Redding) play the blues at New York's Iridium
Please reload