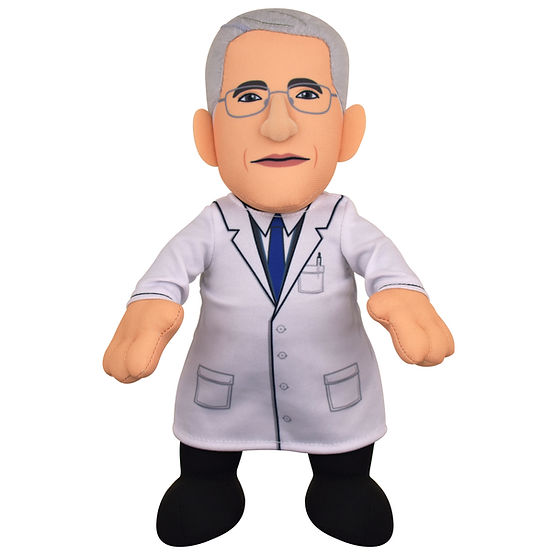 Bleacher Creatures' Dr. Fauci
"He's fought HIV, AIDS, SARS, MERS and Ebola. Now Anthony Fauci is facing his fiercest foe yet...COVID MISINFORMATION."
So excitedly states the video for pop culture plush doll company Bleacher Creatures' new Kickstarter campaign on behalf of America's latest superhero, Dr. Anthony Fauci. The good doctor, the clip adds, is courageously "saving science from fiction."
And now (reiterates a press release—not to mention the daily news headlines), "Dr. Fauci is facing the battle of his life: the battle against Covid-19 misinformation. For the past five months, Dr. Fauci has stood alone in his willingness to question authority and stand up to a barrage of contradictory and often just-plain-loony advice. His outspokenness and bravery has earned him powerful enemies [including, as shown in the video, the president], but many more devoted fans and admirers."
So the celebrated immunologist, who has received countless top honors including the Presidential Medal of Freedom and the National Medal of Science, is now being recognized with the ultimate accolade: a 10-inch Dr. Fauci plush Bleacher Creature.
A division of Uncanny Brands, the Blue Bell, Pa.-based toy supplier specializes in cuddly 10-inch plush renditions of world-renowned political, historical, sports and entertainment figures, such as Pope Francis and Ruth Bader Ginsburg, and Gritty, the beloved Philadelphia Flyers' mascot.
"The Dr. Fauci Bleacher Creature is a fond tribute to a public figure whom we admire immensely," says the company. "We want to show this embattled hero that he has our support, and we hope that others who feel the same way will enjoy this plush figure as much as we do! Show you stand with science, not with fiction, and be a Fauci fan with Bleacher Creatures!"
Bleacher Creature looks to have its Dr. Fauci doll available in December, if its Kickstarter campaign raises sufficient funds. Participants who sign up early can receive a limited-edition Dr. Fauci face mask or Dr. Fauci "Stand Up for Science" metal lapel pin.
"We are well aware that there are many skeptics out there who don't believe that Covid-19 is nearly as great a threat as science suggests," states Bleacher Creatures. "We are committed to spreading the facts--not the virus!"
Bleacher Creatures Dr. Anthony Fauci Kickstarter Video
Please reload
Click on January 2019 to access earlier months